Safety Hazards Around the House This Christmas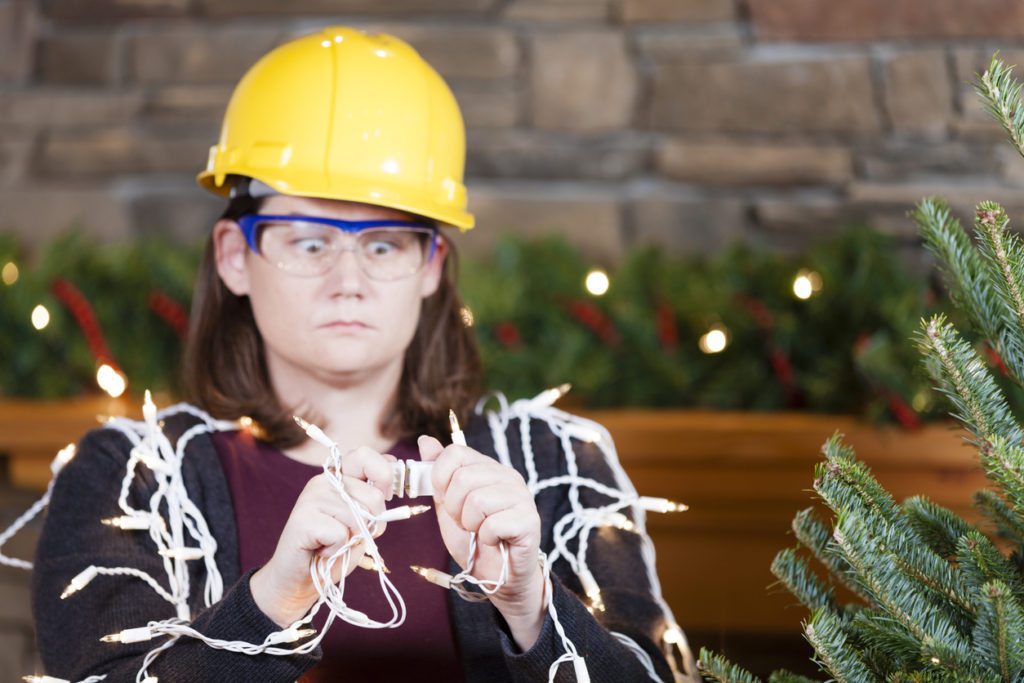 Christmas and the rest of the holiday season is a magical time, with homes transforming into winter wonderlands and neighbourhoods lighting up with decorations. With so much excitement and wonder, you may not be thinking about the hazards lurking around the holidays? Help your family and your home stay safe and cheerful this holiday season by paying attention to the below hazards.
Fire Hazards
Fires are among the most dangerous hazards this time of year, and it's because there are numerous fire hazards lurking when the weather is cold. Between space heaters, candles, Christmas trees, fireplaces and cooking, the amount of fire hazards definitely increases during the holiday season. To avoid fires, double check that all fireplaces are completely out before you go to bed or leave the house. Make sure your tree is watered daily, and turn off all your decorative lights when you leave the house. Don't leave candles lit or near any decorations, and be sure you check all your fire alarms before the season arrives. Don't wait for the batteries to beep at you to change them. (This is something homeowners should do every six months whether the alarms beep or not.) If you have monitored smoke detectors, test them with your Security Company, and rest easy knowing the fire department will be dispatched if the smoke detector goes off.
Cord Damage
With so many additional things plugged into your outlets this time of year, it's easy to have a cord overload at home. When wires are pinched, crushed, or damaged, they become more dangerous. The best way to avoid this is to keep cords out from under furniture, away from water, and away from anything that might pinch them. Don't plug too many things into any outlet, and keep everything in order while it's plugged in.
Vacations and Leaving Home
If you're planning a weekend getaway or a trip to see family for the holidays, ensure your alarm system is armed and doors and windows are locked. Ensure your family and close friends know you're leaving town, set lights on a timer, stop your mail until you get home or have a trusted neighbor collect it for you. If you can, have a neighbour shovel your walks as well. Smart Home Security Systems provide options for automated lighting schedules, and they can be set up to look natural based on approximate times or time of sundown. Criminals aren't interested in being on display when they break into a house, so they'll avoid well-lit homes that don't look empty. If you want to stay extra connected, you can use wireless IP cameras to keep a close eye on your home while you are away.
Decorating Safety
If you're planning on hanging lights this season, be sure your ladder is in good working order whether you're using it indoors or out. Make sure you enlist help when decorating icy rooftops with lights. Your safety must come first, no matter how badly you want to have the best-dressed home for the holidays.
Tree Safety
Real Christmas trees dry out, so keep them watered. They also tip over if they're not anchored correctly. If you plan on decorating with kids in the house, make sure your glass ornaments and ornaments using hooks are kept as high as possible, and use child-friendly décor along the bottom of your tree. Broken ornaments can cause serious damage if they're swallowed or stepped on. A good rule of thumb during Christmas is to keep all décor that's breakable, heavy, or dangerous out of reach of small kids and pets.
Christmas Dinner
It's the best time of the year for good food but don't forget to turn off burners or ovens when you are finished cooking.. If you're using knives, never keep them near the edge of the counter where a small child might grab it. Keep all pot handles turned in or back while they're on the stove so little hands aren't tempted to reach for them. Finally, be sure you're properly handling your food. Raw meat should never touch your counters or other food not being cooked. Wash your hands after handling all food, and know if guests have food allergies to prevent contamination. Keep the counters clean after each use, and always clean everything after you handle raw turkey or ham. Cleanliness is key this time of year.
The holidays are definitely a special time of year and celebrating responsibly goes a long way in avoiding simple hazards.