Security for Cannabis Retailers – CannabisCON 2018
April 18, 2018 | General
Marijuana legalization comes into effect this summer allowing new cannabis retailers to open their doors for business. Part of the application process includes strict security requirements for cannabis retailers, which far exceed that of a typical retail location. To ensure staff safety and prevent theft, working with a professional and experienced security provider is crucial.
This past week, we had the pleasure of taking part in CannabisCon at the Shaw Conference Centre. The 2-day conference focused on delivering relevant information for those looking to enter the cannabis sector. Presentations from key players spoke on topics such as Cannabis Business Start-Ups, Workplace Regulations, and how to enter the cannabis sector. The turnout was fantastic! During the conference, Telsco received numerous inquiries regarding physical security requirements for marijuana retailers and have developed custom solutions to meet the requirements set by the AGLC.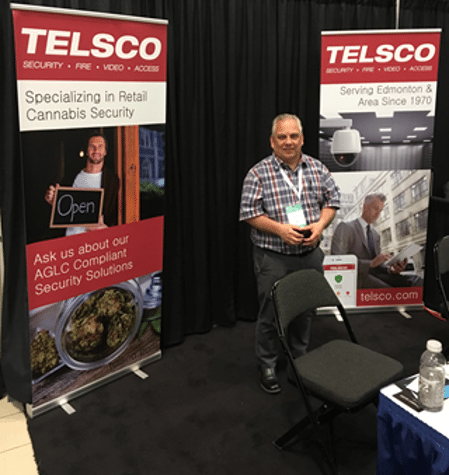 Many of the attendees we spoke to were extremely well versed in the physical security required for a retail cannabis location. As came up in several conversations, it is not only the compliance of the initial security installation that has value, but also the ongoing service and support.
Common Security Questions from Cannabis Retailers
There were some questions that came up a number of times. Here are some of the common questions we had, and our responses:
Q: Is Telsco a local company?
A: Yes, Telsco is 100% locally owned and operated. Our monitoring station is located right here in Edmonton. A local monitoring station allows us to provide unparalleled service to the Edmonton market. With ULC certification and 5 Diamond status, our local monitoring station has all the credentials you would expect from a national provider, with a personal touch that makes all the difference.
The benefits of a local partner don't end with monitoring. When it comes to timely service, live support, system maintenance & video testing requirements, our team offers responsiveness and custom solutions to meet the unique needs of the retail cannabis sector.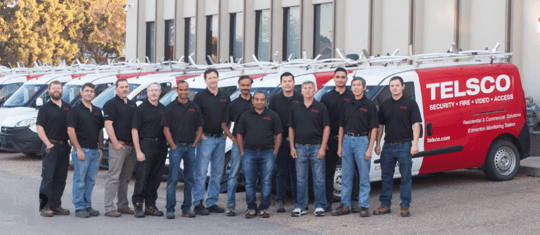 Q: Do your security systems meet all of the AGLC requirements for Cannabis Retailers?
A: Yes, our custom retail cannabis solutions are designed specifically to meet all AGLC requirements. We have been providing security solutions to businesses for nearly 5 decades. Our team is experienced with multiple security, video, and access platforms. As regulations may evolve, Telsco will support updates and make necessary revisions to your plan to ensure compliance. Find out more information on the considerations for Security and Video system design.
For those looking to open a retail cannabis store, Telsco can help with the design, installation, and support of a compliant security solution. With our local team and nearly 5 decades of experience protecting businesses, we will support your security experience from start to finish.
Contact us today for more information on security solutions for the cannabis industry.
Cannabis industry resources: