7 Immediate Fixes for Home Burglary Prevention
A home invasion or burglary can be one of the most traumatizing experiences you can have, and the emotional effects can be very long-lasting. Home should be a safety zone for the family, not an open invitation to thieves. Even if you don't currently have a home security system, there are some precautions you can take to reduce your risk of being burglarized.
1. Leave your house lights on.
Leaving a porch light on all night will cost you only pennies per month, depending upon the rate for electricity in your area. Compact fluorescent lights are considerably less expensive than incandescent bulbs but neither are significantly costly. Considering the cost, both actual and emotional, of a burglary, this is a very inexpensive deterrent. No thief wants to stand under your porch light and try to break into your house.
Be sure that your lighting is adequate, and consider motion-activated lighting areas of your exterior that are not currently covered by a porch light.
If you are away from home at night, consider leaving a light or two on inside the home to make it appear as though someone is home. If there is light coming from behind the blinds, it will make an intruder think twice about entering.
With a Smart Home Security System, lights can be programmed to operate on pre-set schedules using specified times, approximate times or even based on the time of sunrise and sunset for that day.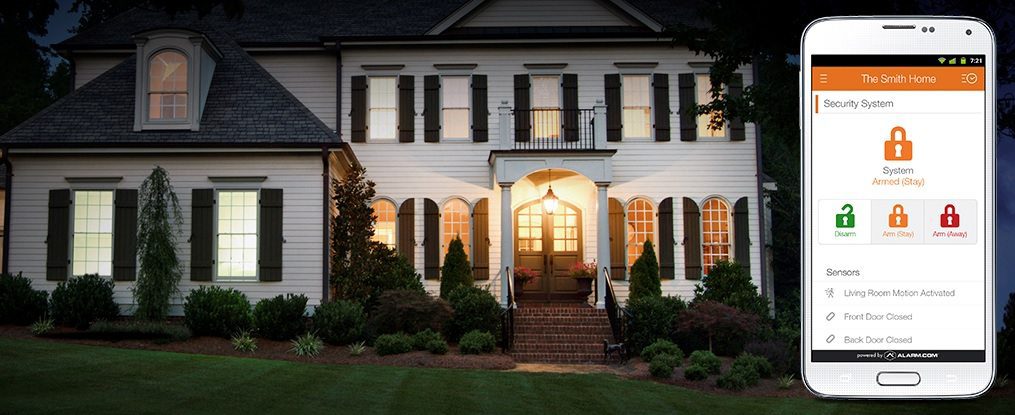 2. Use selective landscaping.
Well-trimmed shrubbery around the exterior of the house can be a deterrent to a would-be thief because of a lack of places to hide. Consider thorny, prickly or otherwise painful plants in strategic places to make the prospect of entering your home less appealing. Overgrown trees, shrubs and bushes create inviting hiding places and allow a burglar time to access your home without creating an obviously suspicious scene.
For your second floor, make sure that vines and tree limbs are kept pruned in order to eliminate easy access to the upper story. Be sure to not leave ladders outside since that is an open invitation to a burglar.
A security system warning sign displayed in your front yard or garden may prove very effective in prompting an unwelcome guest to move along to another target.
3. Lock your windows and doors.
This is perhaps the simplest and most effective defense against intruders yet it is one of the most commonly neglected. More often than not, thieves enter through an unlocked door or window, which may invalidate your homeowners insurance. Although insurance companies have varying policies, some consider unauthorized access through an unlocked door or window as evidence of negligence and may not pay.
If you do lock your doors, do not leave a spare key outside. Whether it is under a rock , under a welcome mat, or any other seemingly safe place; it is likely to be the first place a thief will check. Check your door and window locks periodically to ensure that they are operational and that they are, in fact, locked.
With a Smart Home Security System, you can program a reminder to be sent when the doors have not been locked at a certain time of night or when everyone has left home. If you do need to lock or unlock the door, you can use a smart phone app to do so remotely, meaning no more leaving a key under a rock or giving away your code.
4. Buy quality hardware.
Cheap locksets without deadbolts can be easily circumvented by the most unsophisticated thief. Be sure to purchase good quality hardware and have both the lockset and a deadbolt.
In a lot of cases, the screws used to install the deadbolt and door knob strike plates are 1 to 1 1/2 inch screws. These screws will not put up much of a fight if someone tries to kick the door down. You can very easily and drastically increase your door security by changing out these screws to a 3 inch or 4 inch version. The longer screws will go right into the 2 x 4 stud and make it much more difficult for that door to give way. It only takes a few minutes, a few screws and a drill to make this simple, yet significant change.
5. Don't advertise.
If you're going to be out of town for an extended period, make sure that your mail and newspapers don't pile up outside. Canada Post makes it easy to schedule mail holds online and they will either deliver the mail upon your return or you can pick it up at your local post office. Likewise, most newspapers provide for online mail holds and you can choose to donate your newspaper or extend your subscription. Make sure your trash cans have been brought into the garage or otherwise put out of sight.
Don't post your absence or upcoming absence all over social media. Holidays can be exciting and it is fun to share, but the news of you absence may be invitation to the wrong people. It may be better to share your excitement when you return home.
With a smart home security system, you can receive a text or e-mail alert when someone comes in to check on your home. You can relax completely knowing someone has been in to check on the home and everything has been left locked and secured.
6. Redecorate.
If you have a significant number of items that are plainly visible when your drapes or blinds are open, consider moving them around so that they are less noticeable. Plasma televisions, expensive objects or electronic equipment can encourage a thief to risk burglarizing your home. The more enticing the haul, the more time a burglar is willing to spend obtaining it.
When you do buy new and expensive items, don't put the box in the trash or recycling bin. Either take it to a recycling yard or cut the box into smaller pieces and bag them.
7. Call a home alarm company.
Home alarm systems vary from very simple to very sophisticated and may be more affordable than you think. There are many components that work together to form an effective home intrusion detection system—door contacts, motion detectors, glass break sensors, sirens, to name just a few. Schedule a free consultation and have a security specialist visit your home for a full site assessment. Ask questions, find out your options, and learn how residential security specialists can customize your home alarm security system to meet your budget and security concerns.

Making your house a difficult target for thieves can go a long way to keep your home and valuables safe. By implementing the above fixes along with a competent, custom home alarm security system, deterring thieves doesn't need to be complicated or expensive.