Customized Design
The experts at TELSCO will work to understand the nuances of your business and ensure your solution provides real value – now and in the future.
There are various systems and services that may be recommended as part of your overall security solution. Your system design and hardware will reflect the specific needs of your organization and team.
Intrusion Security, Access Control, Video Solutions, and Fire Protection each offer unique benefits for the protection of your building and your team.
What To Think About
Some questions we consider when designing your custom security solution:
Are you looking to protect both outdoor and indoor space?
What is the general layout/size of the building and are there specific areas of concern?
Do you have existing security equipment that we can leverage in the new design?
Are you looking to restrict access within the building during working hours; server room offices?
How many staff do you have? Do you provide keys to all staff, and have a process to follow if the keys are lost or stolen?
Would you like to know when your business is opened for the day, or closed for the night?
Would you like to stay connected to what is happening in your business when you are not there?
Once we have a good understanding of your application, we will prepare a customized proposal. There is no obligation or payment required for a custom security consultation with one of our experts.
Ready to get started?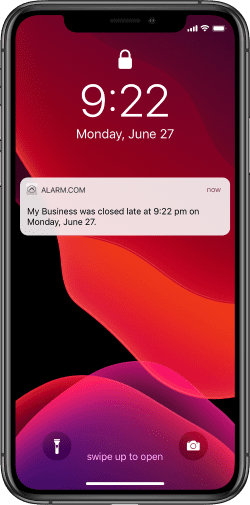 Marks Matter
Security is more than physical safety; it's the confident feeling our customers get from working with a company they know they can trust.

TELSCO Security

TELSCO Security
Custom Security Packages for Your Business
TELSCO serves businesses of every size and offers custom designed security systems based on the type of business you own and the valuables you want to protect.