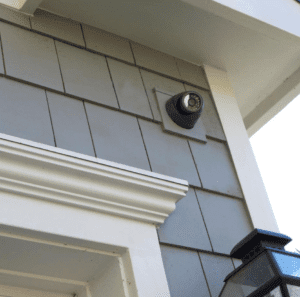 Home security cameras can take your TELSCO security solution to the next level. To supplement our trusted 24/7 monitoring services, the installation of a professional outdoor security camera can help you keep a watchful eye—literally—on your front door, walkway, driveway or back yard.
Contact TELSCO for a Professional Quality Surveillance Camera/System
While wireless security cameras are available at electronics stores, they do not offer the same quality of images and capabilities as our TELSCO products. Our consultants will work with you to understand your needs, and design a custom solution for your home and lifestyle.
As part of your Video Solution, we also offer a Video Doorbell that allows you to see and speak to visitors at your door, from anywhere in the world.
If you would like more information about home security cameras, motion detectors, or home security systems in general, please contact our friendly, knowledgeable sales staff.