When you think home security, is it just home intrusion protection that comes to mind? What about basement damage from water line breaks, hydrant leaks, or your hot water tank bursting from furnace failure while you're away on a tropical winter vacation? At TELSCO, we recommend incorporating environmental alarms into your residential security system. Aside from the cost of the device, there is no additional monthly charge for this valuable service.
Loss of Heat Detector / Freeze Alarms
Do you run for the sun during our long cold winters? Or perhaps you own a cottage that sits vacant in the winter months? A loss of heat detector, or freeze alarm, is programmable for various temperature ranges. It monitors temperature fluctuations and serves as an early warning device to protect against burst water pipes.
Water Alarm – When Things Go Wrong, You CAN Be Prepared
Do you remember July 11, 2004? Torrential rain caused widespread flooding and backup of sewage into many Edmonton homes. The cost of damage caused by this 2-hour event ran into the hundreds of thousands and cleanup took months.
Early warning devices, such as a monitored water alarm or flood detector from TELSCO, can alert you and minimize damage caused by harsh environmental strikes or system failures. With TELSCO Connect Interactive Service, these alerts can be delivered via text message or email.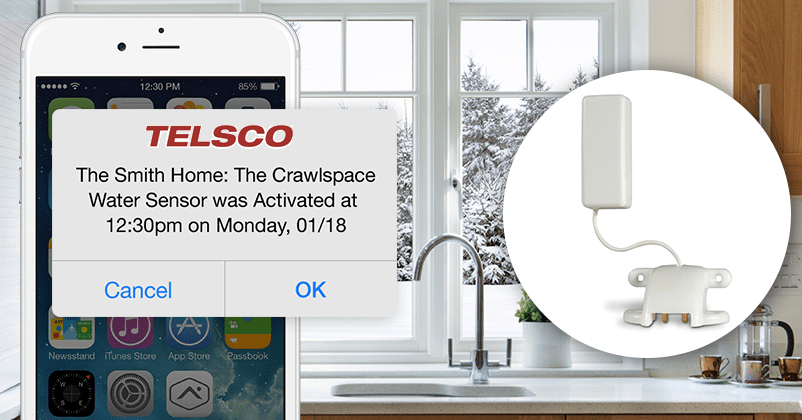 Smoke Detectors, Carbon Monoxide Alarms & TELSCO Save Lives
You've heard it time and again…Smoke and carbon monoxide alarms save lives. At TELSCO, we take this philosophy one step further. In combination with TELSCO's ULC-listed monitoring services, smoke and CO detectors are critical life safety devices. Your family deserves nothing less.
Install monitored photoelectric smoke detectors on every level of your home and specifically in all sleeping areas.
Our smoke detectors are hardwired directly into your security system's main control panel to ensure supervision of the circuits and access to two power sources (AC and backup battery).
You can be assured that in the event of a fire emergency, TELSCO monitored smoke detectors will provide the earliest warning possible. Whether you are home or away, we will dispatch the fire department for you. Plus, while there is a small cost for the devices, your monthly rate doesn't increase.
Carbon Monoxide Detectors – Your Only Defense Against the Silent Killer
Carbon monoxide is an odorless gas released as a by-product of combustion. While all gas appliances—furnaces, fireplaces, stoves, etc. release a small amount of this gas into the environment each time they are used, in high quantities, this gas is lethal.
Monitored carbon monoxide detectors provide the earliest warning system for you and your family. Protect yourself from this silent killer and add a CO detector to your security system today.
Protect your home against more than intruders with water detection alarms, freeze alarms and other environmental alarms and sensors. And remember, with TELSCO, there is no additional monthly charge for this service—it's included in your standard monthly monitoring fee.
Contact us for more information on our life safety products and home security systems or get started now with a free consultation.