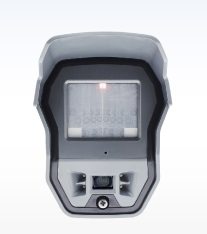 If you have ever responded to a false alarm or received a call about an alarm going off and wondered what it might be, you will appreciate Video Verification as part of your security solution.
With a Videofied (Video + Verified) solution, intrusion detection is taken to the next level. This powerful alternative to traditional security combines intruder detection with simultaneous video footage to provide the best possible information about an alarm in a cost effective way.
When a Motion Viewer (pictured right) detects movement, an alarm is created and transmitted to our monitoring station. A secure video file is sent along with the alarm, allowing the station operator to instantly understand what caused the alarm.
Video Clips are 10 Seconds in Length. Video Transmission is secured using Military Grade Spread Spectrum, as well as AES encryption between devices and between the panel and monitoring station.
The Video Clips allow human operators to filter out false alarms; preventing dispatch where it is unnecessary, and creating urgency in situations where alarm response is required. Clips can be forwarded to you at your request.
Videofied offers extreme flexibility, and delivers effective protection for a wide variety of applications: indoors or outdoors in any weather (rated to -30°C), local or remote, for large and small properties, as a standalone system or as a video verification upgrade to existing burglar alarms.