As the most comprehensive hybrid system available in the market today, the PowerSeries Neo leverages the most innovative wireless technology to deliver industry leading flexibility, reliability, and scalability. This ground-breakingly comprehensive and versatile hybrid security system is suited for organizations of all sizes; from small business structures to large-scale commercial or industrial sites.
Whether you are looking to utilize existing hardwired equipment or start from scratch with a wireless platform, the DSC Neo can deliver a solution that will compliment your organization.
Compatibility with wireless PowerG technology allows for the most flexible installation, even in challenging environments. A wide selection of wireless devices means commercial installations are no longer subject to wiring limitations or installation timelines that are difficult to predict. Easy to use, and esthetically sensitive, all keypads are available in fully functional wireless models for the ultimate in customization.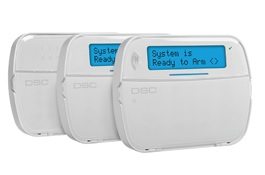 The PowerG Wireless transceiver and sensor devices utilize revolutionary technology to overcome frequency blocking and avoid RF interference, ensuring reliable, long range communication. Adaptive transmission power supports long battery life and 128 bit AES encryption ensures transmission security.
With a variety of control panels, a complete line of expansion modules, and a wide range of PowerG wireless devices, your investment is protected and future expansion is made easy. Your organization will grow – Neo is ready to grow with you.
 The DSC Neo Security System – Revolutionary Wireless PowerG Technology
Multichannel, Frequency Hopping Spread Spectrum technology enables the system to hop between wireless frequency channels to ensure the seamless transmission of secure communications between the devices and the control panel.
TDMA synchronized communication technology prevents messages from colliding by splitting channels into various time slots, allowing for an increased amount of data transmission and ensuring that devices are able to consistently communicate when needed.
Adaptive Transmission Power translates into up to eight years of battery life for the system's devices and peripherals, reducing battery- replacement incurred costs.
128 bit AES encryption offers exceptionally high level of protection against analysis tools and digital attacks.