What type of Home Security or Home Alarm System Do You Need?
You would do anything to protect your family and your home…but are you doing enough? Don't wait for a break-in to turn your intentions into action! With so many companies and products to choose from, how do you know which home security system is right for you?  TELSCO will help you choose. With knowledge of several system types and service options, you will be sure that our professional staff can deliver a system that best aligns your needs with your budget.
Since 1970, TELSCO home alarm systems have been providing protection and peace of mind. Sign up for a free home alarm system consultation now.
What types of home security & alarm packages are available?
Here's where we differ most from other security providers. We provide custom solutions. Our experienced security consultants actually come to your home for a site assessment. Then they design a home alarm system that will provide the highest level of protection. We fit your residential system to your needs and budget. At TELSCO, we are interested in developing a relationship with you, not just selling you products.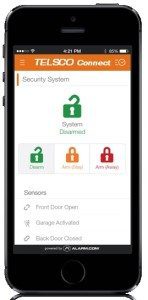 We are excited to offer TELSCO Connect , powered by Alarm.com, as a way to make your customized security system even more valuable. This powerful Interface allows you to connect to your home alarm system from anywhere in the world. By adding Home Automation devices, such as lights, locks and thermostats, you can experience the ultimate in convenience, comfort and safety.
Contact us today and let us earn your trust.