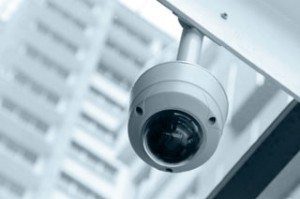 Video surveillance systems are often incorporated into our custom  commercial security solutions. With options for Wireless Cameras, Remote Connections and Video Analytics, video systems are more flexible and valuable than ever. By assessing the needs of your organization, the experts at Telsco Security Systems can help you determine what type of Video Surveillance system will be the best fit for your application.
The Various Types of CCTV Cameras
Fixed cameras are video cameras that provide a fixed view of a given location; they are ideal for monitoring parking lots and building entrances
Dome cameras have the ability to pan, tilt and zoom
Vandal-proof cameras are specifically designed for locations that may be subject to abuse; these cameras are composed of special materials that ensure operation after receiving multiple shocks and impacts
Covert cameras are designed to provide hidden surveillance for high risk target areas; these products are often disguised as clocks, motion detectors or smoke detectors
Housing units for these video surveillance systems are available for both indoor and outdoor applications. They feature factory-installed low power heaters, blowers and defrosters.
Need a Digital Video Recorder for Your Wireless Security Camera/System?
A Honeywell digital video recorder (DVR) takes images from security cameras and stores them on a hard drive. These crystal clear images will not degrade over time. This powerful video surveillance system also offers enhanced search and event retrieval, multi-screen viewing and continuous full frame recording. Our most popular DVRs support 4 to 16 separate camera locations.
Video Verification Reduces False Alarms, Improves Reliability
Video verification arms progressive security providers like Telsco with the ability to check the validity of a triggered alarm. Video surveillance cameras record and transmit images via the internet to our ULC-listed monitoring station, which we then confirm and act on, when relevant.
This convenient remote verification reduces false alarms, offers reliable reporting, increases safety and prompts the quickest response possible by emergency crews.
Video Analytics – The Next Generation of Video Surveillance Systems
The next generation of video verification—video analytics, is emerging technology that is adding a new dimension to the security/surveillance industry.
Video analytics gives us the ability to set parameters or criteria for recorded images.
The technology then analyzes surveillance video for this pre-determined data, objects or behaviours.
While ideal for security breaches, these "smart" video surveillance systems are also projecting into areas beyond security.
Business data, such as counting pedestrians, tracking customer service efficiency, determining speed and direction of travel, etc. can provide valuable insight for decision makers.
Contact us today for more information about video surveillance and video verification and the applications for your business.